How to Get a PSA Birth Certificate at the PSA Branch of your choice in the Philippines?

As you all know, you and I almost always
need an authenticated PSA issued birth certificate even once in our lifetime.
A PSA Birth Certificate is the official birth certificate issued and authenticated by the Philippine Statistics Authority (PSA) to Filipino citizens documenting their live birth information including birthdate, place of birth, parents' details, birth attendant, local civil registry number, and birth registration number.
PSA Birth Certificate Requirements in 2023:
Application Form (this form is provided by the PSA)
Certificate Fee (P155)
Valid ID for both the owner and requester of document
Authorization letter and ID of the document owner together with the ID of the requester are required if the requester is not the following: document owner, parent, spouse, direct descendant, legal guardian / institution in-charge, if minor
Procedures in Getting PSA Birth Certificate at the PSA Branch:
Update: Due to the pandemic, the PSA launched an online appointment system (CRS Online Appointment System). Hence, the procedures in getting a PSA birth certificate from any PSA branch will now require a confirmed appointment.
The good thing about getting a PSA Birth Certificate at the PSA branch is that you will be able to receive your authenticated PSA birth certificate without paying expensive fees.
The not so good thing about it is you might need to wait for a long queue because there are many applicants requesting for certificates every day. Likewise, the appointment system allocates slots on a first-come-first-served basis.
Step 1

:

Schedule an appointment through the PSA Online Appointment System
Make an online schedule to request your authenticated birth certificate through PSA Civil Registration Service Appointment System (PSA CRS). Prepare your valid email address and your active mobile number.
The Philippine Statistics Authority stated that minors are not allowed to book an appointment. If the requesting party is a duly authorized representative, the original copy of the authorization letter and valid ID must be presented.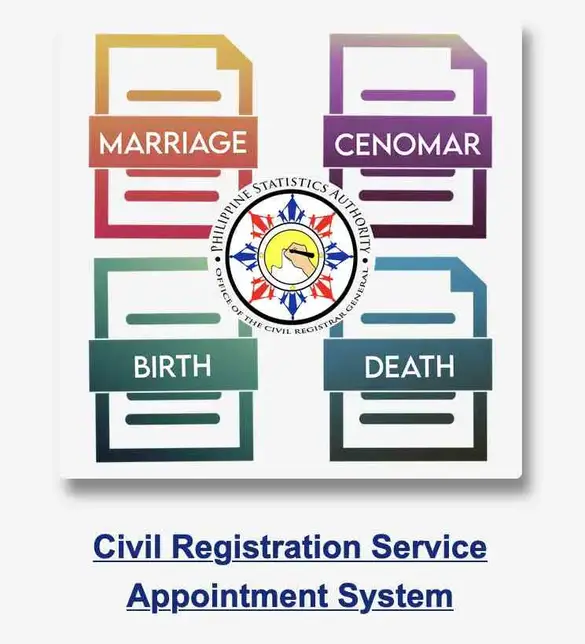 Step 2
:
Select your PSA outlet or PSA branch
Choose your PSA outlet where you want to set an appointment. Specify your region and PSA branch then click the "next" button.
Step 3

: Provide your contact information for your appointment

Type your name (first, middle, last), email address, and mobile number on the online form. If you're making a schedule for someone else, indicate their contact details and take note that all the reminders and requirements will then apply to them. If you're requesting for someone else's birth certificates, use your own personal information and contact details.



Step 4

: Confirm your OTP

PSA CRS will send your OTP code to your email address to verify it's yours. Type or copy the OTP number and proceed to the next step.
Step 5

: Fill out your application form for birth certificate
Fill out the application form by indicating your type of certificate request (in this case, Certificate of Live Birth). You may also add another certificate request. Proceed to the next field after you finished your document request.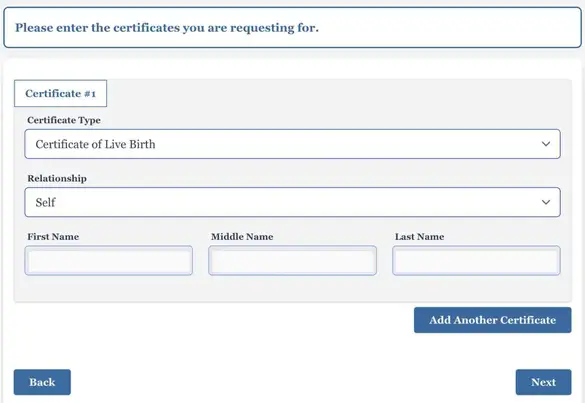 Step 6

: Choose your preferred date and time of appointment

The page will now display a calendar where you can set your preferred date and time of your appointment. The dark colored boxes will indicate some available slots. Clicking a date will show the specified time and available slots.



Step 7

: Confirm the details of your appointment

The page will display the details of your birth certificate request and schedule. Take a moment to review the information of your appointment before you confirm your appointment. Be informed that your appointment is non-transferable.
Step 8
: Keep a digital copy of your appointment slip
You will now receive your Civil Registration Service Appointment Slip containing your confirmed booking with QR code. Keep a digital copy or print it out because you'll need it when you'll attend your appointment.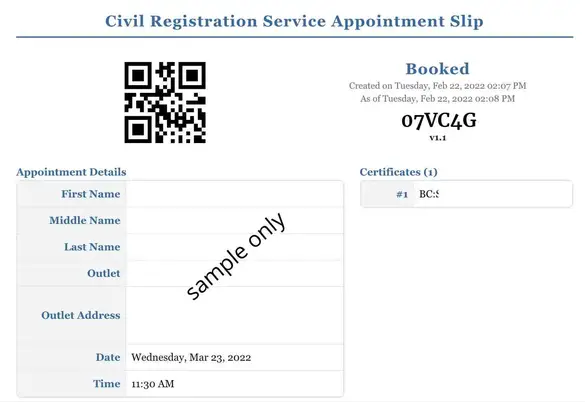 Step 9

: Attend your appointment at the PSA outlet

Present your CRS appointment slip and accomplish a Health Survey Form. Get your PSA birth certificate application form (AF) and queue ticket number (QTN)



Step 10

: Pay the processing fee

Next step is you will have to pay the application fee at the cashier. The latest fee and price of getting a PSA birth certificate is P155 per copy.
Step 11

: Receive your copy of birth certificate
Wait for your certificate to be released on the scheduled date set by your PSA branch. Present your valid ID and official receipt (OR) to the Releasing Section. Before you leave the vicinity, make sure you check your certificate for any correction or error.